Pour ses 25 ans, l'album paru en 1996 ressort en version augmentée le 29 octobre.
Intronisé au Rock and Roll Hall of Fame, R.E.M. est l'un des groupes les plus adulés de l'underground américain. Issu de la scène post-punk, le groupe a contribué à créer le 'College Rock' durant les années 80.
Sorti en 1996, New Adventures in Hi-Fi célèbre cette année ses 25 ans. Produit par Scott Litt, l'album expérimente de nouvelles textures sonores, remplies d'images cinématographiques, de notes dissonantes et d'effets obsédants. Electrolite, E-Bow the Letter (avec Patti Smith) et Bittersweet Me sont les singles de cet album certifié platine à l'époque.
Contenu des différentes éditions
2CD+Blu-Ray
CD 1: L'album remasterisé
CD 2 : B-Sides et raretés
Blu-Ray : images de projection durant leur tournée, EPK, Clips et album en audio haute résolution
Livret richement illustré, accompagné de photos inédites.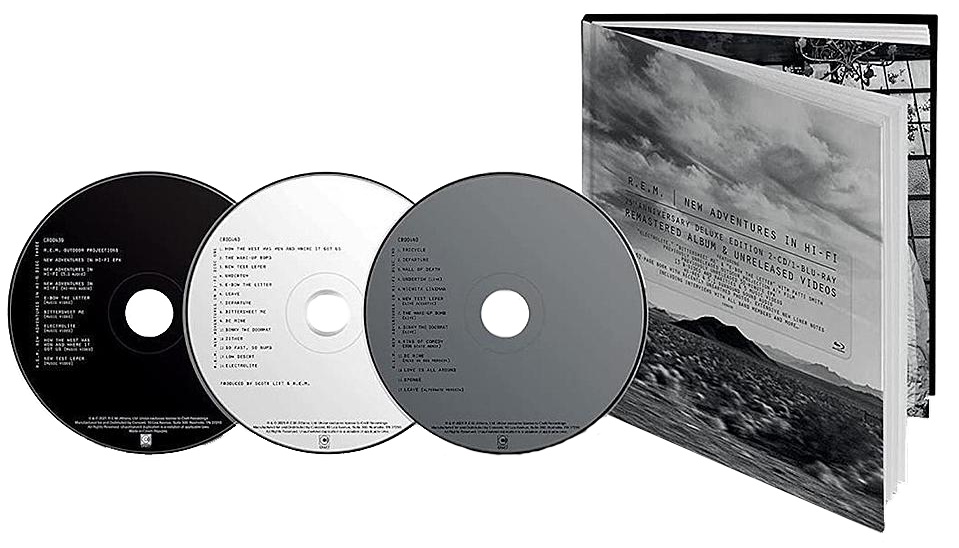 2CD
CD 1: L'album remasterisé
CD 2 : B-Sides et raretés
2LP
Tracklisting détaillé
2CD + 1Blu-Ray
CD1 – New Adventures in Hi-Fi (remastered audio)
How the West Was Won and Where It Got Us
The Wake-Up Bomb
New Test Leper
Undertow
E-Bow the Letter
Leave
Departure
Bittersweet Me
Be Mine
Binky the Doormat
Zither
So Fast, So Numb
Low Desert
Electrolite
CD2 – B-Sides and Rarities
Tricycle (Instrumental)
Departure (Live Rome Soundcheck / Rome, Italy / 2/22/1995)
Wall of Death
Undertow (Live / Atlanta, GA / 11/18/1995)
Wichita Lineman (Live / Houston, TX / 9/15/1995)
New Test Leper (Live Acoustic / Seattle, WA / 4/19/1996)
The Wake-Up Bomb (Live / Atlanta, GA / 10/4/1995)
Binky the Doormat (Live / Atlanta, GA / 11/18/1995)
King of Comedy (808 State Remix)
Be Mine (Mike on Bus version)
Love Is All Around
Sponge
Leave (Alternate Version)
Blu-Ray
R.E.M. Outdoor Projections – Saturday Sept 7, 1996 – 5 cities (64:56)
New Adventures in Hi-Fi EPK – previously unreleased 30 min version (29:13)
New Adventures in Hi-Fi 5.1 Audio
New Adventures in Hi-Fi – Hi-Resolution Audio
E-Bow the Letter (Music Video)
Bittersweet Me (Music Video)
Electrolite (Music Video)
How the West Was Won and Where It Got Us (Music Video)
New Test Leper (Music Video)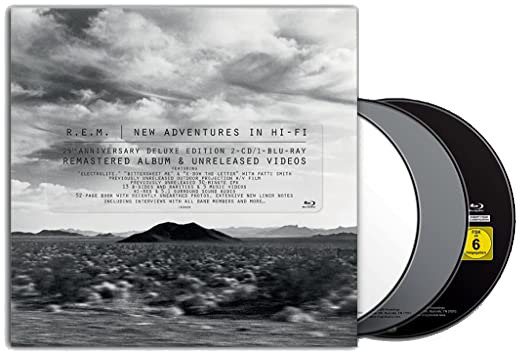 2CD
CD1 – New Adventures in Hi-Fi (remastered audio)
How the West Was Won and Where It Got Us
The Wake-Up Bomb
New Test Leper
Undertow
E-Bow the Letter
Leave
Departure
Bittersweet Me
Be Mine
Binky the Doormat
Zither
So Fast, So Numb
Low Desert
Electrolite
CD2 – B-Sides and Rarities
Tricycle (Instrumental)
Departure (Live Rome Soundcheck / Rome, Italy / 2/22/1995)
Wall of Death
Undertow (Live / Atlanta, GA / 11/18/1995)
Wichita Lineman (Live / Houston, TX / 9/15/1995)
New Test Leper (Live Acoustic / Seattle, WA / 4/19/1996)
The Wake-Up Bomb (Live / Atlanta, GA / 10/4/1995)
Binky the Doormat (Live / Atlanta, GA / 11/18/1995)
King of Comedy (808 State Remix)
Be Mine (Mike on Bus Version)
Love Is All Around
Sponge
Leave (Alternate Version)
2LP
Side A
How the West Was Won and Where It Got Us
The Wake-Up Bomb
New Test Leper
Side B
Undertow
E-Bow the Letter
Leave
Side C
Departure
Bittersweet Me
Be Mine
Binky the Doormat
Side D
Zither
So Fast, So Numb
Low Desert
Electrolite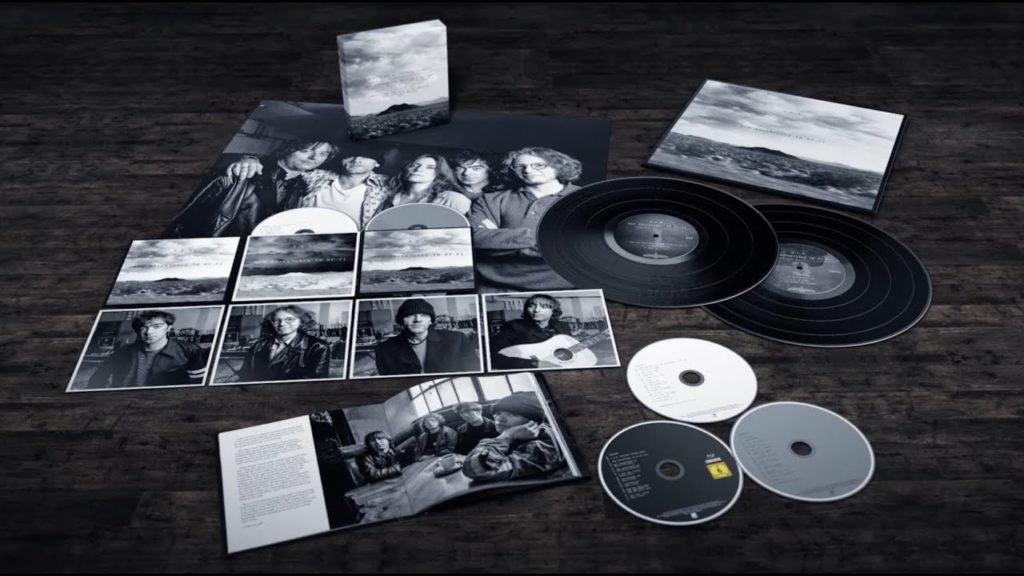 Infos via Valérie Lefebvre – Universal Music Catalogue