'Now And Then', l'une des sorties les plus attendues de la longue histoire des Beatles, sera diffusée dans le monde entier à 15h00 le jeudi 2 novembre par Apple Corps Ltd./Capitol/UMe.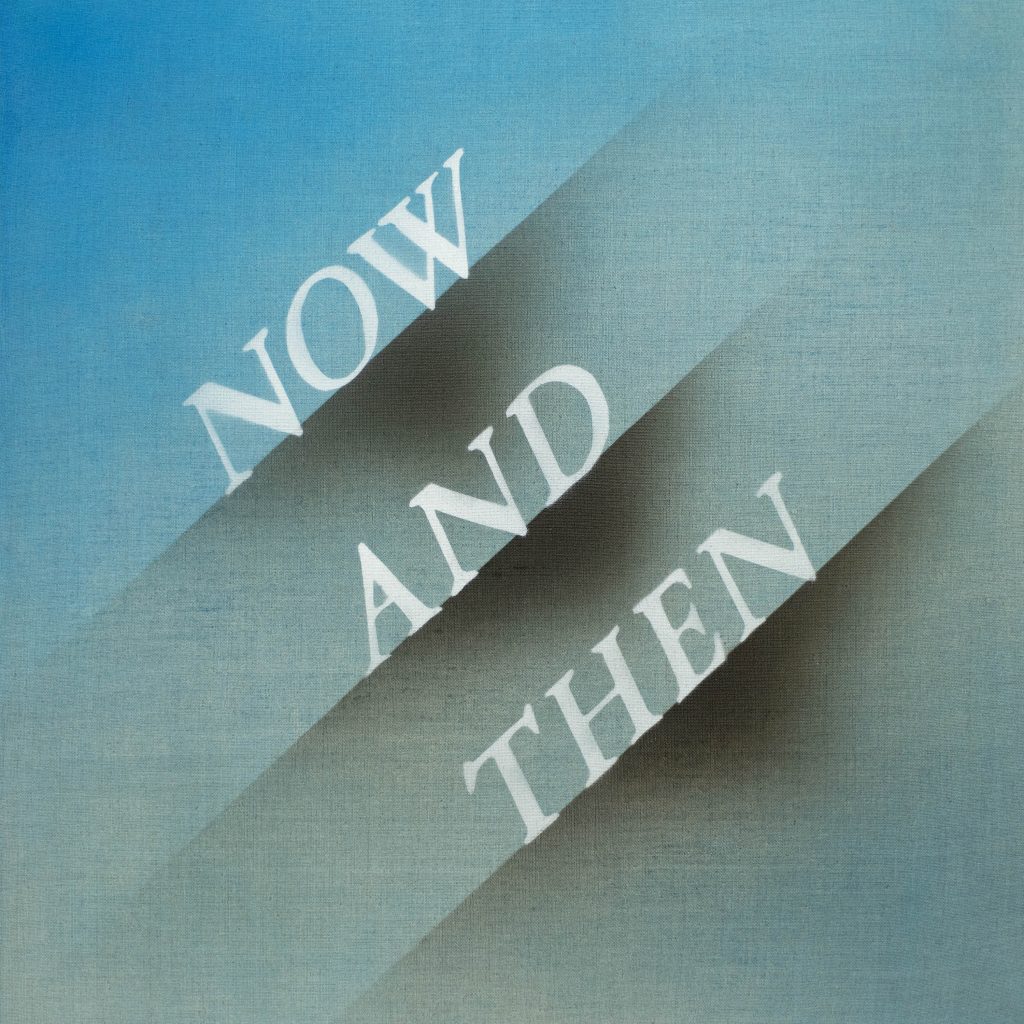 Une sortie très attendue
Londres – 26 octobre 2023 – Ensemble et séparément, les Beatles ont toujours eu un talent pour l'inattendu. 2023 apporte l'une des sorties les plus attendues de leur longue histoire. Now And Then est la dernière chanson des Beatles – écrite et chantée par John Lennon, développée, travaillée par Paul McCartney, George Harrison et Ringo Starr, et enfin terminée par Paul et Ringo plus de quatre décennies plus tard.
Now And Then sera diffusé dans le monde entier à 15h00 le jeudi 2 novembre par Apple Corps Ltd./Capitol/UMe.
Le single, double face A, associe la dernière chanson des Beatles à la première : le premier single du groupe en 1962, Love Me Do. Les deux chansons sont mixées en stéréo et Dolby Atmos®. C'est Ed Ruscha qui a réalisé la pochette. Le nouveau clip de Now And Then sera diffusé le vendredi 3 novembre.
Un documentaire de 12 minutes Now And Then – The Last Beatles Song, écrit et réalisé par Oliver Murray sera diffusé en première mondiale sur la chaîne YouTube des Beatles à 20h30. Ce court métrage poignant raconte l'histoire de la dernière chanson des Beatles, avec des images et des commentaires exclusifs de Paul, Ringo, George, Sean Ono Lennon et Peter Jackson.
Une longue histoire
L'histoire de Now And Then commence à la fin des années 1970, lorsque John enregistre une démo avec chant et piano chez lui, au Dakota Building à New York. En 1994, sa femme, Yoko Ono Lennon, a offert l'enregistrement à Paul, George et Ringo, ainsi que les démos de John pour Free As A Bird et Real Love, achevées en tant que nouvelles chansons des Beatles et respectivement publiées en singles en 1995 et 1996, dans le cadre du projet The Beatles Anthology. Paul, George et Ringo ont également enregistré de nouvelles parties et réalisé un mixage approximatif pour Now And Then avec le producteur Jeff Lynne. Mais à cette époque, les limitations technologiques empêchaient la voix et le piano de John d'être séparés pour obtenir le mixage clair nécessaire pour terminer la chanson. Now And Then a donc été mis de côté, dans l'espoir qu'un jour il serait terminé.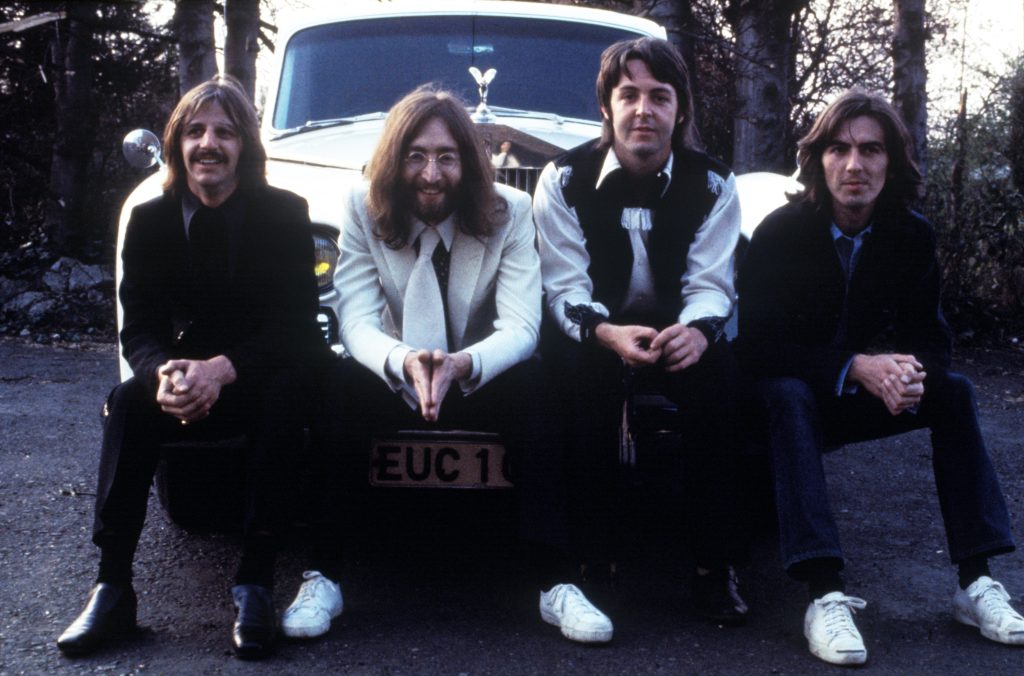 En 2022, Paul et Ringo ont commencé à retravailler la chanson. Outre la voix de John, Now And Then comprend une guitare électrique et acoustique enregistrées en 1995 par George, une nouvelle partie de batterie de Ringo, ainsi que des parties de basse, de guitare et de piano jouées par Paul, qui correspondent au jeu original de John. Paul a ajouté un solo de guitare slide inspiré par George, lui et Ringo ont également contribué aux chœurs du refrain.
À Los Angeles, Paul a supervisé une session d'enregistrement aux Capitol Studios pour un arrangement de cordes mélancoliques et typiques des Beatles, écrit par Giles Martin, Paul et Ben Foster. Paul et Giles ont également ajouté une dernière touche merveilleusement subtile : les chœurs des enregistrements originaux de Here, There And Everywhere, Eleanor Rigby et Because, insérés dans la nouvelle chanson en utilisant les techniques utilisées lors de la réalisation du Spectacle et album LOVE. Le morceau fini a été produit par Paul et Giles et mixé par Spike Stent.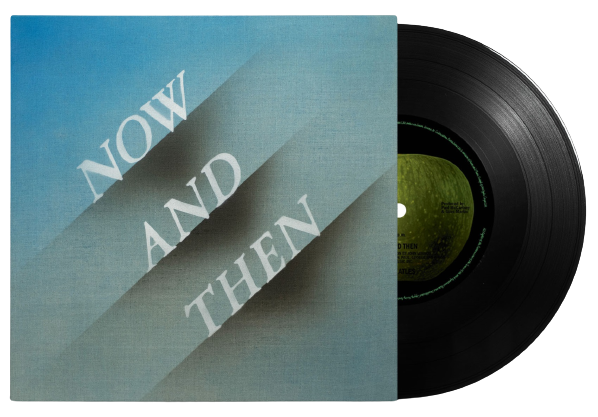 Les deux compilations rééditées
Le 10 novembre, les compilations 1962-1966 (The Red Album) et 1967-1970 (The Blue Album) seront publiées par Apple Corps Ltd./Capitol/UMe. Depuis leur parution, ces compilations rouge et bleu ont fait découvrir les Beatles à des générations de fans (dont l'auteur de ces lignes), l'incroyable histoire du groupe. Des titres supplémentaires ont été rajoutés sur les deux albums, avec toutes les chansons mixées en stéréo et en Dolby Atmos. Ces nouvelles compilations seront également présentées sous forme de coffret 4CD ou vinyle 6LP (180 grammes) associant Rouge et Bleu. Love Me Do débute désormais 1962-1966 (édition 2023), et Now And Then clot 1967-1970 (édition 2023).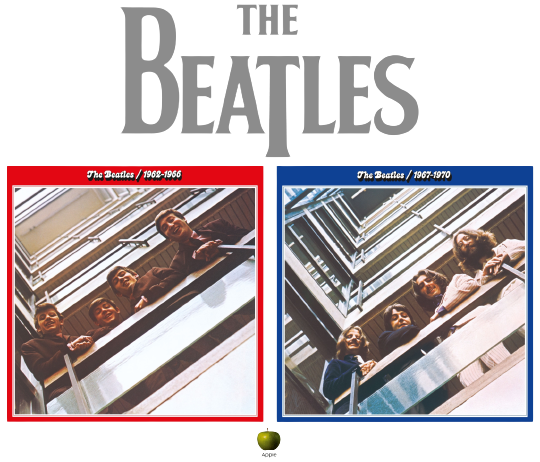 Mixages stéréo :
Les deux compilations : numériques ; streaming; 2CD ; Vinyle noir 3LP 180g
Mixages Dolby Atmos : numériques ; streaming
Now And Then Credits
Produit par Paul McCartney, Giles Martin
Production additionnelle : Jeff Lynne
Chant : John Lennon, Paul McCartney
Chœurs : John Lennon, Paul McCartney, George Harrison, Ringo Starr
Guitares : George Harrison
Guitares, basse, piano, clavecin électrique, shaker : Paul McCartney
Batterie, tambourin, shaker : Ringo Starr
Arrangements cordes : Paul McCartney, Giles Martin, Ben Foster
Mixé par Spike Stent
Conçu par Geoff Emerick, Steve Orchard, Greg McAllister, Jon Jacobs, Steve Genewick, Bruce Sugar, Keith Smith
Séparation des sources / MAL Avec l'aimable autorisation de WingNut Films Productions Ltd.
Responsable du Machine Learning : Emile de la Rey
Gestion du projet : Adam Sharp
Enregistré au Hog Hill Studio, Capitol Studios et Roccabella West
Masterisé par Miles Showell
Producteurs du projet : Jonathan Clyde et Guy Hayden
Producteur executif: Jeff Jones
NOW AND THEN / LOVE ME DO :
(double A-side single)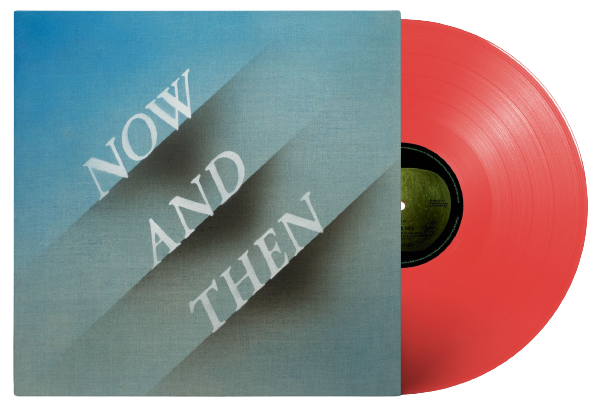 Versions CD
Compilation 1962-1966 (2023 Edition)
(2CD: stereo / Digital + Streaming: stereo & Dolby Atmos)
* = newly added track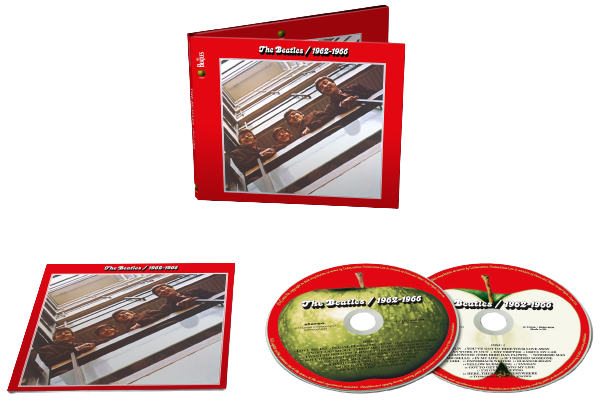 CD1
Love Me Do (2023 Mix)
Please Please Me (2023 Mix)
I Saw Her Standing There (2023 Mix) *
Twist And Shout (2023 Mix) *
From Me To You (2023 Mix)
She Loves You (2023 Mix)
I Want To Hold Your Hand (2023 Mix)
This Boy (2023 Mix) *
All My Loving (2023 Mix)
Roll Over Beethoven (2023 Mix) *
You Really Got A Hold On Me (2023 Mix) *
Can't Buy Me Love (2023 Mix)
You Can't Do That (2023 Mix) *
A Hard Day's Night (2023 Mix)
And I Love Her (2023 Mix)
Eight Days A Week (2023 Mix)
I Feel Fine (2023 Mix)
Ticket To Ride (2023 Mix)
Yesterday (2023 Mix)
CD2
Help! (2023 Mix)
You've Got To Hide Your Love Away (2023 Mix)
We Can Work It Out (2023 Mix)
Day Tripper (2023 Mix)
Drive My Car (2023 Mix)
Norwegian Wood (This Bird Has Flown) (2023 Mix)
Nowhere Man (2023 Mix)
Michelle (2023 Mix)
In My Life (2023 Mix)
If I Needed Someone (2023 Mix) *
Girl (2023 Mix)
Paperback Writer (2022 Mix)
Eleanor Rigby (2022 Mix)
Yellow Submarine (2022 Mix)
Taxman (2022 Mix) *
Got To Get You Into My Life (2022 Mix) *
I'm Only Sleeping (2022 Mix) *
Here, There And Everywhere (2022 Mix) *
Tomorrow Never Knows (2022 Mix) *
Compilation 1967-1970 (2023 Edition)
(2CD: stereo / Digital + Streaming: stereo & Dolby Atmos)
* = newly added track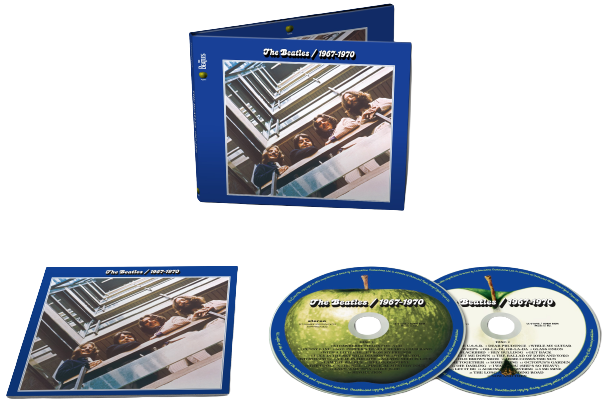 CD1
Strawberry Fields Forever (2015 Stereo Mix / 2023 Dolby Atmos Mix)
Penny Lane (2017 Mix)
Sgt. Pepper's Lonely Hearts Club Band (2017 Mix)
With A Little Help From My Friends (2017 Mix)
Lucy In The Sky With Diamonds (2017 Mix)
Within You Without You (2017 Mix) *
A Day In The Life (2017 Mix)
All You Need Is Love (2015 Stereo Mix / 2023 Dolby Atmos Mix)
I Am The Walrus (2023 Mix)
Hello, Goodbye (2015 Stereo Mix / 2023 Dolby Atmos Mix)
The Fool On The Hill (2023 Mix)
Magical Mystery Tour (2023 Mix)
Lady Madonna (2015 Stereo Mix / 2023 Dolby Atmos Mix)
Hey Jude (2015 Stereo Mix / 2023 Dolby Atmos Mix)
Revolution (2023 Mix)
CD2
Back In The U.S.S.R. (2018 Mix)
Dear Prudence (2018 Mix) *
While My Guitar Gently Weeps (2018 Mix)
Ob-La-Di, Ob-La-Da (2018 Mix)
Glass Onion (2018 Mix) *
Blackbird (2018 Mix) *
Hey Bulldog (2023 Mix) *
Get Back (2015 Stereo Mix / 2023 Dolby Atmos Mix)
Don't Let Me Down (2021 Mix)
The Ballad Of John And Yoko (2015 Stereo Mix / 2023 Dolby Atmos Mix)
Old Brown Shoe (2023 Mix)
Here Comes The Sun (2019 Mix)
Come Together (2019 Mix)
Something (2019 Mix)
Octopus's Garden (2019 Mix)
Oh! Darling (2019 Mix) *
I Want You (She's So Heavy) (2019 Mix) *
Let It Be (2021 Mix)
Across The Universe (2021 Mix)
I Me Mine (2021 Mix) *
The Long And Winding Road (2021 Mix)
Now And Then *
1962-1966 & 1967-1970 (2023 Editions) 4CD SLIPCASED SET
('Red': CDs 1 & 2 / 'Blue': CDs 3 & 4)
(stereo / all 75 tracks as listed above)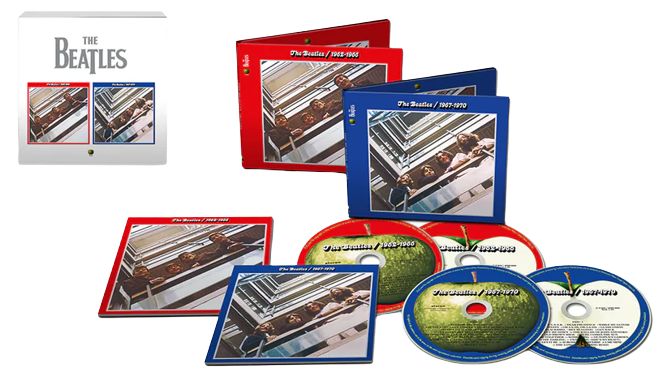 Versions vinyles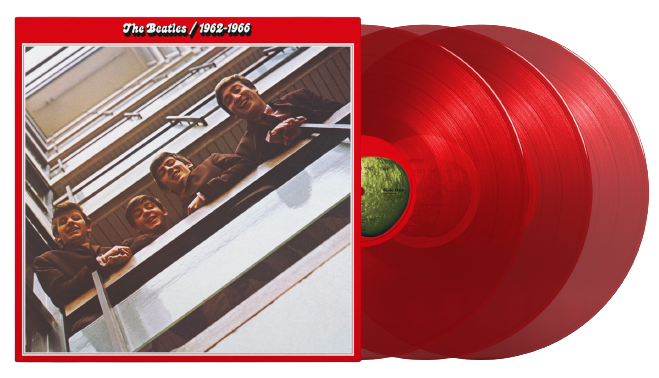 LP1 ('Red')
Side A:
Love Me Do (2023 Mix)
Please Please Me (2023 Mix)
From Me To You (2023 Mix)
She Loves You (2023 Mix)
I Want To Hold Your Hand (2023 Mix)
All My Loving (2023 Mix)
Can't Buy Me Love (2023 Mix)
Side B:
A Hard Day's Night (2023 Mix)
And I Love Her (2023 Mix)
Eight Days A Week (2023 Mix)
I Feel Fine (2023 Mix)
Ticket To Ride (2023 Mix)
Yesterday (2023 Mix)
LP2 ('Red')
Side A:
Help! (2023 Mix)
You've Got To Hide Your Love Away (2023 Mix)
We Can Work It Out (2023 Mix)
Day Tripper (2023 Mix)
Drive My Car (2023 Mix)
Norwegian Wood (This Bird Has Flown) (2023 Mix)
Side B:
Nowhere Man (2023 Mix)
Michelle (2023 Mix)
In My Life (2023 Mix)
Girl (2023 Mix)
Paperback Writer (2022 Mix)
Eleanor Rigby (2022 Mix)
Yellow Submarine (2022 Mix)
LP3 (Bonus 'Red' LP)
Side A:
I Saw Her Standing There (2023 Mix)
Twist And Shout (2023 Mix)
This Boy (2023 Mix)
Roll Over Beethoven (2023 Mix)
You Really Got A Hold On Me (2023 Mix)
You Can't Do That (2023 Mix)
Side B:
If I Needed Someone (2023 Mix)
Got To Get You Into My Life (2022 Mix)
I'm Only Sleeping (2022 Mix)
Taxman (2022 Mix)
Here, There And Everywhere (2022 Mix)
Tomorrow Never Knows (2022 Mix)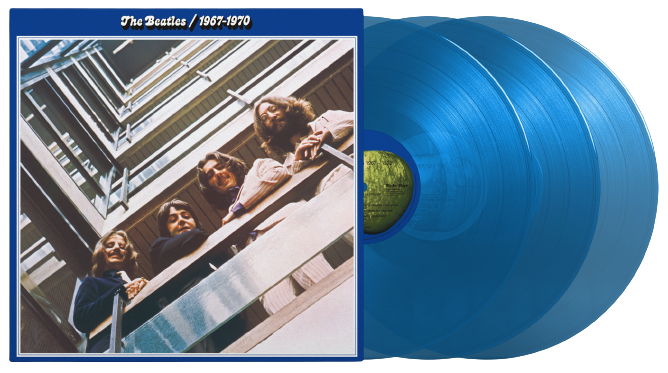 LP4 ('Blue')
Side A:
Strawberry Fields Forever (2015 mix)
Penny Lane (2017 mix)
Sgt. Pepper's Lonely Hearts Club Band (2017 Mix)
With A Little Help From My Friends (2017 Mix)
Lucy In The Sky With Diamonds (2017 Mix)
A Day In The Life (2017 Mix)
All You Need Is Love (2015 Mix)
Side B:
I Am The Walrus (2023 Mix)
Hello, Goodbye (2015 Mix)
The Fool On The Hill (2023 Mix)
Magical Mystery Tour (2023 Mix)
Lady Madonna (2015 Mix)
Hey Jude (2015 Mix)
Revolution (2023 Mix)
LP5 ('Blue')
Side A:
Back In The U.S.S.R. (2018 Mix)
While My Guitar Gently Weeps (2018 Mix)
Ob-La-Di, Ob-La-Da (2018 Mix)
Get Back (2015 Mix)
Don't Let Me Down (2021 Mix)
The Ballad Of John And Yoko (2015 Mix)
Old Brown Shoe (2023 Mix)
Side B:
Here Comes The Sun (2019 Mix)
Come Together (2019 Mix)
Something (2019 Mix)
Octopus's Garden (2019 Mix)
Let It Be (2021 Mix)
Across The Universe (2021 Mix)
The Long And Winding Road (2021 Mix)
LP6 (Bonus 'Blue'LP)
Side A:
Now And Then
Blackbird (2018 Mix)
Dear Prudence (2018 Mix)
Glass Onion (2018 Mix)
Within You Without You (2017 Mix)
Side B:
Hey Bulldog (2023 Mix)
Oh! Darling (2019 Mix)
I Me Mine (2021 Mix)
I Want You (She's So Heavy) (2019 Mix)
1962-1966 + 1967-1970 (2023 EDITIONS) 6 VINYL SLIPCASED SET
(1962-1966: LPs 1-3 / 1967-1970: LPs 4-6)
(stereo / 1962-1966 3LP Vinyl & 1967-1970 3LP Vinyl = same track sequencing for each as listed above)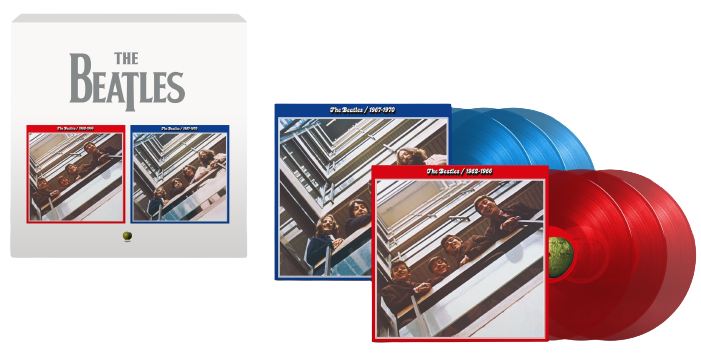 infos via Valérie Lefebvre – Universal Music Catalogue