Avec un an de retard, le triple album de l'ex-Beatle fête son cinquantenaire par une édition Super Deluxe, disponible le 6 août. Revue de détails.
All Thing Must Pass est le premier album de George Harrison à être sorti après la séparation des Beatles.
Longtemps frustré de ne pas pouvoir proposer plus de chansons au sein des Beatles, dominé par le tandem Lennon/McCartney, George Harrison se rattrape avec un triple album qui sort le 30 novembre 1970. Produit par Phil Spector, Harrison s'entoure de ses amis Eric Clapton, Ringo Starr, Klaus Voormann, Billy Preston, ainsi que plusieurs des musiciens de Derek and the Dominos qui accompagnèrent Clapton sur l'album Layla and Other Assorted Love Songs.
All Things Must Pass est aujourd'hui considéré comme le meilleur album solo de la carrière de George Harrison, avec des classiques comme My Sweet Lord, Wah-Wah, ou Isn't It A Pity.
RETROUVEZ MA CHRONIQUE PUBLIÉE L'ANNÉE DERNIÈRE POUR LES 50 ANS :
50 ans après, voici ce chef d'œuvre enfin réédité avec 43 demos et outtakes inédits, remixés par Paul Hicks auquel nous devons les dernières rééditions des albums de John Lennon (Imagine, Plastic Ono Band). Ces nouveaux mixes révèlent une profondeur sonore, une définition et une clarté à couper le souffle.
CONTENUS DES DIFFERENTES ÉDITIONS
Contenu de l'édition Super Deluxe (5CD + 1 Blu-Ray ou 8 LP)
CD1: Album original remixé
CD2: Album original remixé
CD3: Day One Demos – Tuesday 26 May 1970
CD4: Day 2 Demos – Wednesday 27 May 1970
CD5: Session Outtakes and Jams
Contenu de l'édition Deluxe (3CD ou 5 LP)
CD1: Album original remixé
CD2: Album original remixé
CD3: Session Outtakes and Jams
Contenu de l'édition Deluxe (2CD ou 3 LP)
CD1: Album original remixé
CD2: Album original remixé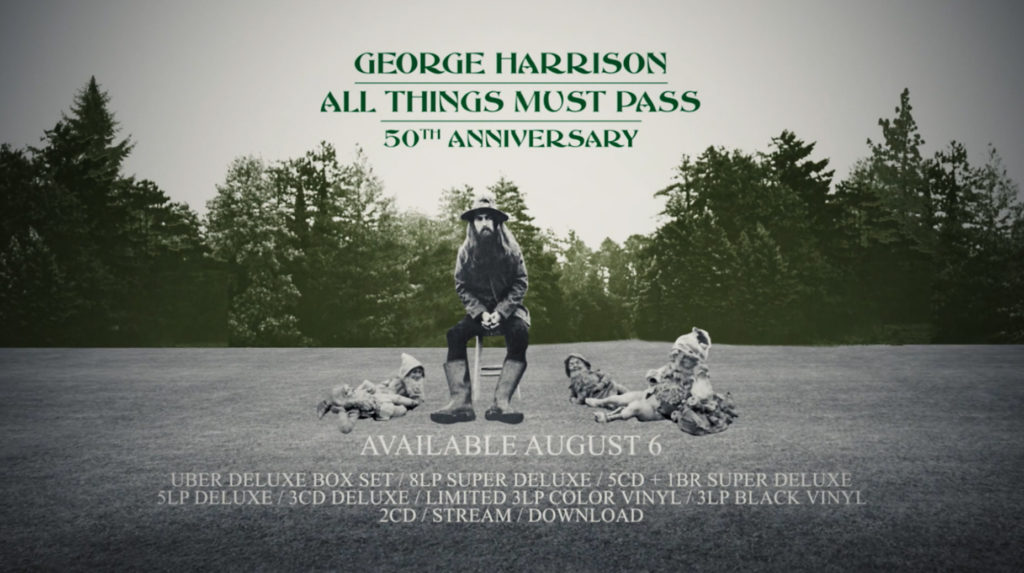 TRACKLISTING DETAILLÉ
ÉDITION 2CD
Disc 1
I'd Have You Anytime
My Sweet Lord
Wah-Wah
Isn't It A Pity (Version One)
What Is Life
If Not For You
Behind That Locked Door
Let It Down
Run Of The Mill
Disc 2
Beware Of Darkness
Apple Scruffs
Ballad Of Sir Frankie Crisp (Let It Roll)
Awaiting On You All
All Things Must Pass
I Dig Love
Art Of Dying
Isn't It A Pity (Version Two)
Hear Me Lord
Out Of The Blue
It's Johnny's Birthday
Plug Me In
I Remember Jeep
Thanks For The Pepperoni
ÉDITION 3LP
LP1
I'd Have You Anytime
My Sweet Lord
Wah-Wah
Isn't It A Pity (Version One)
What Is Life
If Not For You
Behind That Locked Door
Let It Down
Run Of The Mill
LP2
Beware Of Darkness
Apple Scruffs
Ballad Of Sir Frankie Crisp (Let It Roll)
Awaiting On You All
All Things Must Pass
I Dig Love
Art Of Dying
Isn't It A Pity (Version Two)
Hear Me Lord
LP3
Out Of The Blue
It's Johnny's Birthday
Plug Me In
I Remember Jeep
Thanks For The Pepperoni
ÉDITION 3CD Deluxe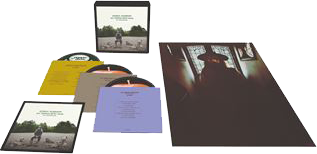 Disc 1 (Main Album)
I'd Have You Anytime
My Sweet Lord
Wah-Wah
Isn't It A Pity (Version One)
What Is Life
If Not For You
Behind That Locked Door
Let It Down
Run Of The Mill
Disc 2 (Main Album)
Beware Of Darkness
Apple Scruffs
Ballad Of Sir Frankie Crisp (Let It Roll)
Awaiting On You All
All Things Must Pass
I Dig Love
Art Of Dying
Isn't It A Pity (Version Two)
Hear Me Lord
Out Of The Blue
It's Johnny's Birthday
Plug Me In
I Remember Jeep
Thanks For The Pepperoni
Disc 3 (Session Outtakes and Jams)
Isn't It A Pity – Take 14
Wah-Wah – Take 1
I'd Have You Anytime – Take 5
Art Of Dying – Take 1
Isn't It A Pity – Take 27
If Not For You – Take 2
Wedding Bells (Are Breaking Up That Old Gang Of Mine) – Take 1
What Is Life – Take 1
Beware Of Darkness – Take 8
Hear Me Lord – Take 5
Let It Down – Take 1
Run Of The Mill – Take 36
Down To the River (Rocking Chair Jam) – Take 1
Get Back – Take 1
Almost 12 Bar Honky Tonk – Take 1
It's Johnny's Birthday – Take 1
Woman Don't You Cry For Me – Take 5
ÉDITION 5LP Deluxe
LP1 (Main Album)
I'd Have You Anytime
My Sweet Lord
Wah-Wah
Isn't It A Pity (Version One)
What Is Life
If Not For You
Behind That Locked Door
Let It Down
Run Of The Mill
LP2 (Main Album)
Beware Of Darkness
Apple Scruffs
Ballad Of Sir Frankie Crisp (Let It Roll)
Awaiting On You All
All Things Must Pass
I Dig Love
Art Of Dying
Isn't It A Pity (Version Two)
Hear Me Lord
LP3 (Main Album)
Out Of The Blue
It's Johnny's Birthday
Plug Me In
I Remember Jeep
Thanks For The Pepperoni
LP4 (Session Outtakes and Jams)
Isn't It A Pity – Take 14
Wah-Wah – Take 1
I'd Have You Anytime – Take 5
Art Of Dying – Take 1
Isn't It A Pity – Take 27
If Not For You – Take 2
Wedding Bells (Are Breaking Up That Old Gang Of Mine) – Take 1
What Is Life – Take 1
Beware Of Darkness – Take 8
LP5 (Session Outtakes and Jams cont.)
Hear Me Lord – Take 5
Let It Down – Take 1
Run Of The Mill – Take 36
Down To the River (Rocking Chair Jam) – Take 1
Get Back – Take 1
Almost 12 Bar Honky Tonk – Take 1
It's Johnny's Birthday – Take 1
Woman Don't You Cry For Me – Take 5
ÉDITION 5CD/BD Super Deluxe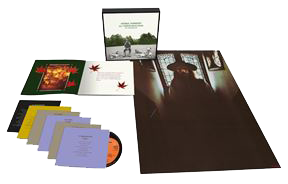 Disc 1 (Main Album)
I'd Have You Anytime
My Sweet Lord
Wah-Wah
Isn't It A Pity (Version One)
What Is Life
If Not For You
Behind That Locked Door
Let It Down
Run Of The Mill
Disc 2 (Main Album)
Beware Of Darkness
Apple Scruffs
Ballad Of Sir Frankie Crisp (Let It Roll)
Awaiting On You All
All Things Must Pass
I Dig Love
Art Of Dying
Isn't It A Pity (Version Two)
Hear Me Lord
Out Of The Blue
It's Johnny's Birthday
Plug Me In
I Remember Jeep
Thanks For The Pepperoni
Disc 3 (Day 1 Demos – Tuesday 26 May 1970)
All Things Must Pass – Day 1 Demo
Behind That Locked Door – Day 1 Demo
I Live For You – Day 1 Demo
Apple Scruffs – Day 1 Demo
What Is Life – Day 1 Demo
Awaiting On You All – Day 1 Demo
Isn't It A Pity – Day 1 Demo
I'd Have You Anytime – Day 1 Demo
I Dig Love – Day 1 Demo
Going Down To Golders Green – Day 1 Demo
Dehra Dun – Day 1 Demo
Om Hare Om (Gopala Krishna) – Day 1 Demo
Ballad Of Sir Frankie Crisp (Let It Roll) – Day 1 Demo
My Sweet Lord – Day 1 Demo
Sour Milk Sea – Day 1 Demo
Disc 4 (Day 2 Demos – Wednesday 27 May 1970)
Run Of The Mill – Day 2 Demo
Art Of Dying – Day 2 Demo
Everybody/Nobody – Day 2 Demo
Wah-Wah – Day 2 Demo
Window Window – Day 2 Demo
Beautiful Girl – Day 2 Demo
Beware Of Darkness – Day 2 Demo
Let It Down – Day 2 Demo
Tell Me What Has Happened To You – Day 2 Demo
Hear Me Lord – Day 2 Demo
Nowhere To Go – Day 2 Demo
Cosmic Empire – Day 2 Demo
Mother Divine – Day 2 Demo
I Don't Want To Do It – Day 2 Demo
If Not For You – Day 2 Demo
Disc 5 (Session Outtakes and Jams)
Isn't It A Pity – Take 14
Wah-Wah – Take 1
I'd Have You Anytime – Take 5
Art Of Dying – Take 1
Isn't It A Pity – Take 27
If Not For You – Take 2
Wedding Bells (Are Breaking Up That Old Gang Of Mine) – Take 1
What Is Life – Take 1
Beware Of Darkness – Take 8
Hear Me Lord – Take 5
Let It Down – Take 1
Run Of The Mill – Take 36
Down To the River (Rocking Chair Jam) – Take 1
Get Back – Take 1
Almost 12 Bar Honky Tonk – Take 1
It's Johnny's Birthday – Take 1
Woman Don't You Cry For Me – Take 5
Blu-ray Audio Disc (Main Album only; Surround, Atmos, Hi-Res)
I'd Have You Anytime
My Sweet Lord
Wah-Wah
Isn't It A Pity (Version One)
What Is Life
If Not For You
Behind That Locked Door
Let It Down
Run Of The Mill
Beware Of Darkness
Apple Scruffs
Ballad Of Sir Frankie Crisp (Let It Roll)
Awaiting On You All
All Things Must Pass
I Dig Love
Art Of Dying
Isn't It A Pity (Version Two)
Hear Me Lord
Out Of The Blue
It's Johnny's Birthday
Plug Me In
I Remember Jeep
Thanks For The Pepperoni
8LP Super Deluxe
LP1 (Main Album)
I'd Have You Anytime
My Sweet Lord
Wah-Wah
Isn't It A Pity (Version One)
What Is Life
If Not For You
Behind That Locked Door
Let It Down
Run Of The Mill
LP2 (Main Album)
Beware Of Darkness
Apple Scruffs
Ballad Of Sir Frankie Crisp (Let It Roll)
Awaiting On You All
All Things Must Pass
I Dig Love
Art Of Dying
Isn't It A Pity (Version Two)
Hear Me Lord
LP3 (Main Album)
Out Of The Blue
It's Johnny's Birthday
Plug Me In
I Remember Jeep
Thanks For The Pepperoni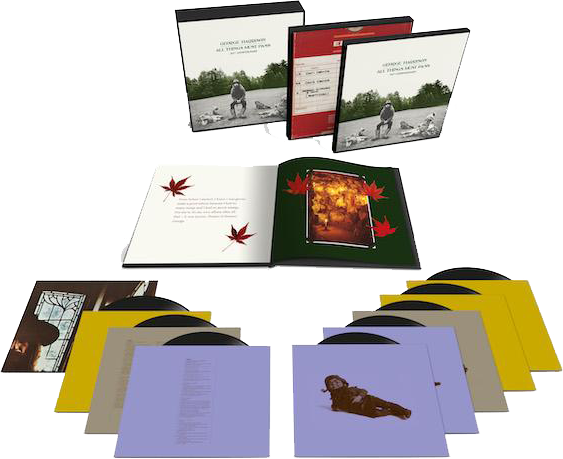 LP4 (Day 1 Demos – Tuesday 26 May 1970)
All Things Must Pass – Day 1 Demo
Behind That Locked Door – Day 1 Demo
I Live For You – Day 1 Demo
Apple Scruffs – Day 1 Demo
What Is Life – Day 1 Demo
Awaiting On You All – Day 1 Demo
Isn't It A Pity – Day 1 Demo
I'd Have You Anytime – Day 1 Demo
LP5 (Day 1 Demos – Tuesday 26 May 1970 cont.)
I Dig Love – Day 1 Demo
Going Down To Golders Green – Day 1 Demo
Dehra Dun – Day 1 Demo
Om Hare Om (Gopala Krishna) – Day 1 Demo
Ballad Of Sir Frankie Crisp (Let It Roll) – Day 1 Demo
My Sweet Lord – Day 1 Demo
Sour Milk Sea – Day 1 Demo
LP6 (Day 2 Demos – Wednesday 27 May 1970)
Run Of The Mill – Day 2 Demo
Art Of Dying – Day 2 Demo
Everybody/Nobody – Day 2 Demo
Wah-Wah – Day 2 Demo
Window Window – Day 2 Demo
Beautiful Girl – Day 2 Demo
Beware Of Darkness – Day 2 Demo
Let It Down – Day 2 Demo
Tell Me What Has Happened To You – Day 2 Demo
Hear Me Lord – Day 2 Demo
Nowhere To Go – Day 2 Demo
Cosmic Empire – Day 2 Demo
Mother Divine – Day 2 Demo
I Don't Want To Do It – Day 2 Demo
If Not For You – Day 2 Demo
LP7 (Session Outtakes and Jams)
Isn't It A Pity – Take 14
Wah-Wah – Take 1
I'd Have You Anytime – Take 5
Art Of Dying – Take 1
Isn't It A Pity – Take 27
If Not For You – Take 2
Wedding Bells (Are Breaking Up That Old Gang Of Mine) – Take 1
What Is Life – Take 1
Beware Of Darkness – Take 8
LP8 (Session Outtakes and Jams cont.)
Hear Me Lord – Take 5
Let It Down – Take 1
Run Of The Mill – Take 36
Down To the River (Rocking Chair River Jam) – Take 1
Get Back – Take 1
Almost 12 Bar Honky Tonk – Take 1
It's Johnny's Birthday – Take 1
Woman Don't You Cry For Me – Take 5
Uber Deluxe Crate : combines the 5CD/BD and 8LP
Infos via Valérie Lefebvre – Universal Music Catalogue