Un coffret 7 CD avec démos, live et raretés, revient sur les 2 albums cultes "The Idiot" et "Lust for Life".
L'histoire de la collaboration entre Iggy Pop et David Bowie racontée à travers The Idiot et Lust for Life, deux albums cultes de la décennie 70, dans un coffret 7 CD qui comprend les 2 albums remasterisés, mais aussi un CD de démos et de raretés, 3 live inédits et un livret richement illustré accompagné de nombreux témoignages.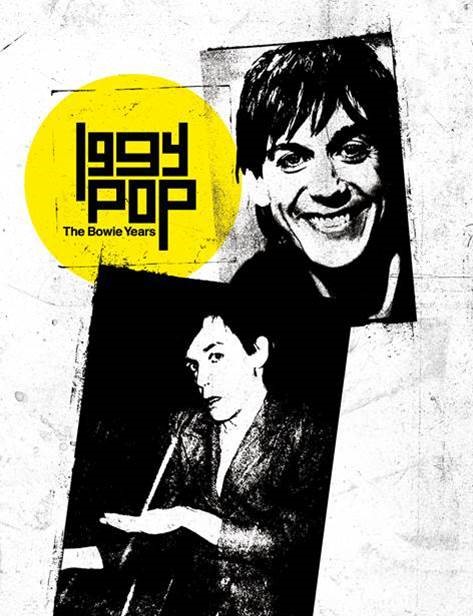 En 1977, Iggy Pop signe avec RCA Records, et, avec l'aide de David Bowie, ils écrivent et produisent The Idiot et Lust for Life, les deux albums les plus acclamés d'Iggy en tant qu'artiste solo.
Parmi les chansons écrites ensemble figurent China Girl, Tonight et Sister Midnight, qui seront toutes plus tard interprétées par Bowie sur ses propres albums (le dernier titre étant enregistré avec des paroles différentes et s'intitulera Red Money sur l'album Lodger). David Bowie joue des claviers lors des concerts d'Iggy, dont certains sur l'album TV Eye Live en 1978.
Iggy Pop the Bowie Years coffret 7 CD
DISC 1 (The Idiot)
Sister Midnight
Nightclubbing
Funtime
Baby
China Girl
Dum Dum Boys
Tiny Girls
Mass Production
DISC 2 (Lust for Life)
Lust for Life
Sixteen
Some Weird Sin
The Passenger
Tonight
Success
Turn Blue
Neighbourhood Threat
Fall in Love with Me
DISC 3 (TV Eye Live)
T.V. Eye
Funtime
Sixteen
I Got A Right
Lust for Life
Dirt
Nightclubbing
I Wanna Be Your Dog
DISC 4 (Demo's and Rarities)
Sister Midnight – Mono Single Edit
Sister Midnight – Single Edit
China Girl – Single Edit
Dum Dum Boys – Alt Mix
Baby – Alt Mix
China Girl – Alt Mix
Tiny Girls – Alt Mix
I Got A Right – Single
Lust for Life – Edit
Interview with Iggy about Recording the Idiot
DISC 5 (Rainbow Theatre – Finsbury Park, London 07/03/1977)
Raw Power
TV Eye
Dirt
1969
Turn Blue
Funtime
Gimme Danger
No Fun
Sister Midnight
I Need Somebody
Search and Destroy
I Wanna Be Your Dog
Tonight
Some Weird Sin
China Girl
DISC 6 (Agora Cleveland 21/03/1977)
Raw Power
TV Eye
Dirt
1969
Turn Blue
Funtime
Gimme Danger
No Fun
Sister Midnight
I Need Somebody
Search and Destroy
I Wanna Be Your Dog
China Girl
DISC 7 (Mantra Studios, Chicago 28/03/1977)
Raw Power
TV Eye
Dirt
Turn Blue
Funtime
Gimme Danger
No Fun
Sister Midnight
I Need Somebody
Search and Destroy
I Wanna Be Your Dog
China Girl
The Idiot Edition deluxe 2CD
DISC 1 (The Idiot)
Sister Midnight
Nightclubbing
Funtime
Baby
China Girl
Dum Dum Boys
Tiny Girls
Mass Production
DISC 2 (Rainbow Theatre – Finsbury Park, London 07/03/1977)
Raw Power
TV Eye
Dirt
1969
Turn Blue
Funtime
Gimme Danger
No Fun
Sister Midnight
I Need Somebody
Search and Destroy
I Wanna Be Your Dog
Tonight
Some Weird Sin
China Girl
Lust for Life Edition deluxe 2CD
DISC 1 (Lust for Life)
Lust for Life
Sixteen
Some Weird Sin
The Passenger
Tonight
Success
Turn Blue
Neighbourhood Threat
Fall in Love with Me
DISC 2 (TV Eye Live)
T.V. Eye
Funtime
Sixteen
I Got A Right
Lust for Life
Dirt
Nightclubbing
I Wanna Be Your Dog
Infos via Valérie Lefebvre – Universal Music Catalogue