Alors qu'il fête son demi-siècle le 17 aout, le troisième album de The Band a bénéficié d'une réédition avec nombreux bonus.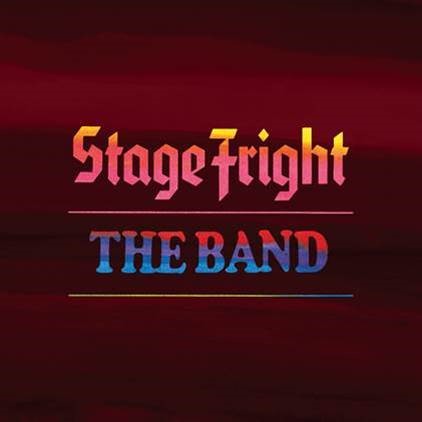 Robbie Robertson, Levon Helm, Garth Hudson, Richard Manuel et Rick Danko ont créé The Band à la fin des années cinquante. Le groupe s'appelait alors The Hawks. Réputé pour avoir fondé le style « Americana », The Band a accompagné Bob Dylan de nombreuses fois de 1965 à 1974.
Il y a un peu plus de deux ans, leur premier album Music from The big pink, sorti en 1968, a bénéficié d'une réédition deluxe. ► Ma chronique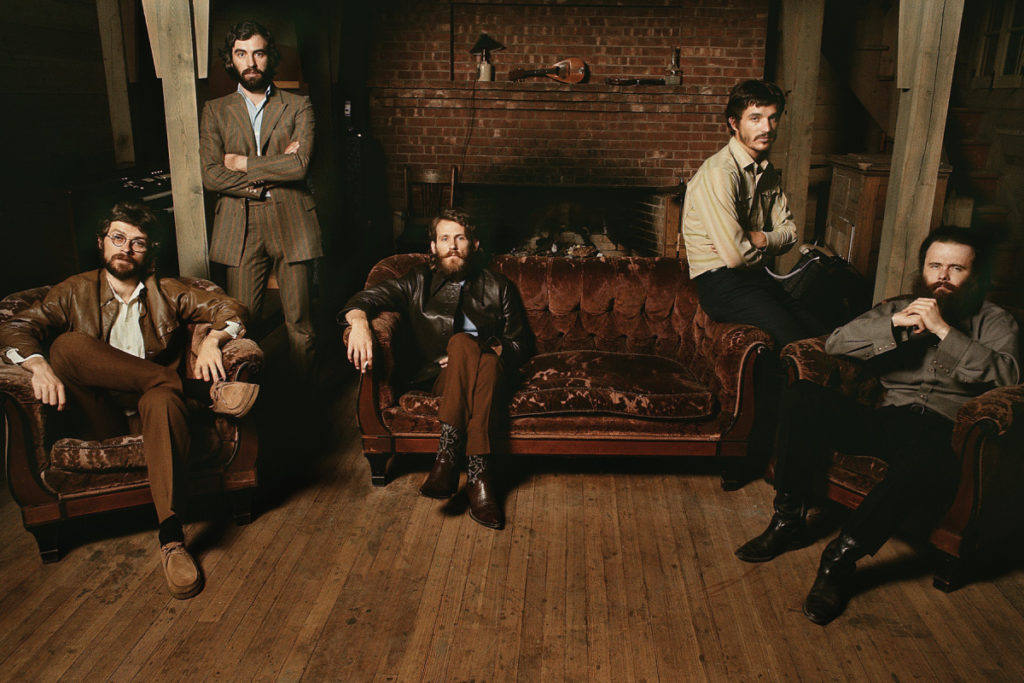 Stage Fright est le 3ème album du groupe. Enregistré par Todd Rundgren et Glyn Johns, il sort en 1970, et contient The Shape I'm In et Stage Fright, deux de leurs plus grands hits.
A l'occasion du 50ème anniversaire de la sortie de l'album, Bob Clearmountain a produit un nouveau mix qui donne une nouvelle luminosité à ce chef-d'œuvre, le Live At The Royal Albert Hall est également présent sur cette édition, disponible depuis le 12 février.
Différentes éditions
Edition Super Deluxe
CD 1 : Album remixé par Bob Clearmountain
CD 2 : Live At The Royal Albert Hall
Blu-Ray : Mix de l'album et du Live At The Royal Albert Hall en 5.1
LP : Album remixé par Bob Clearmountain
45 tours vinyle : reproduction à l'identique de l'édition espagnole du single Time To Kill /The Shape I'm In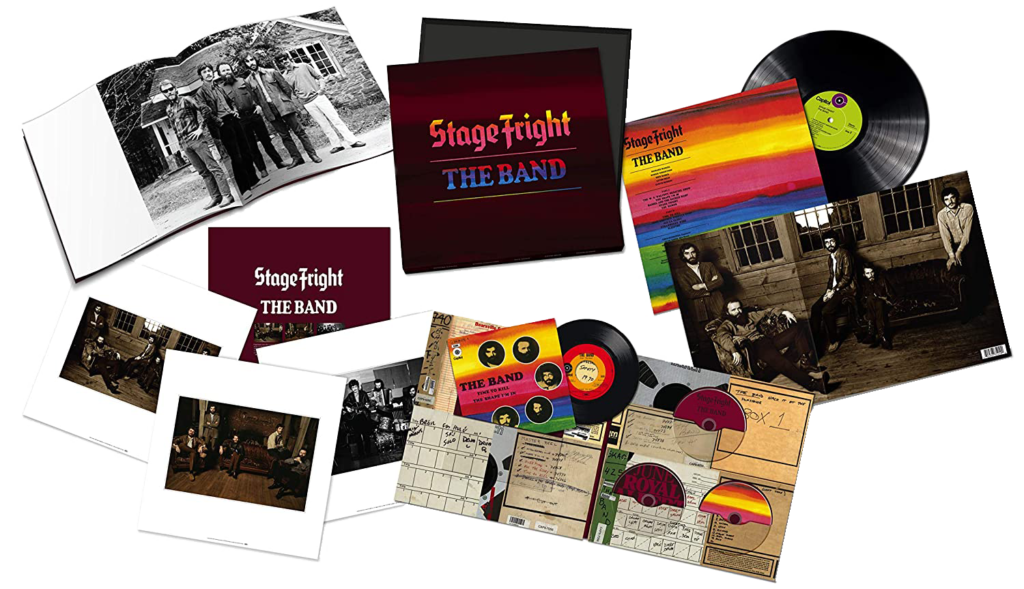 Edition Deluxe 2 CD
CD 1 : Album remixé par Bob Clearmountain
CD 2 : Live At The Royal Albert Hall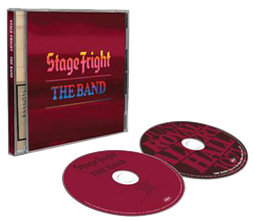 Détails et tracklisting
CD 1
Stage Fright (nouveau mix – remasterisé)
The W.S. Walcott Medicine Show
The Shape I'm In
Daniel And The Sacred Harp
Stage Fright
The Rumor
Time To Kill
Just Another Whistle Stop
All La Glory
Strawberry Wine
Sleeping
Strawberry Wine (Alternate Mix) *
Sleeping (Alternate Mix) *
Calgary Hotel Room Recordings, 1970 *
Get Up Jake (#1) *
Get Up Jake (#2) *
The W.S. Walcott Medicine Show *
Rockin' Pneumonia And The Boogie Woogie Flu *
Blues (instrumental) *
Before You Accuse Me *
Mojo Hannah *
CD 2
Live At Royal Albert Hall, June 1971
The Shape I'm In
Time To Kill
The Weight
King Harvest (Has Surely Come)
Strawberry Wine
Rockin' Chair
Look Out Cleveland
I Shall Be Released
Stage Fright
Up On Cripple Creek
The W.S. Walcott Medicine Show
We Can Talk
Loving You Is Sweeter Than Ever
The Night They Drove Old Dixie Down
Across the Great Divide
The Unfaithful Servant
Baby Don't You Do It
The Genetic Method
Chest Fever
Rag Mama Rag
LP
Stage Fright (nouveau mix – remasterisé)
The W.S. Walcott Medicine Show
The Shape I'm In
Daniel And The Sacred Harp
Stage Fright
The Rumor
Time To Kill
Just Another Whistle Stop
All La Glory
Strawberry Wine
Sleeping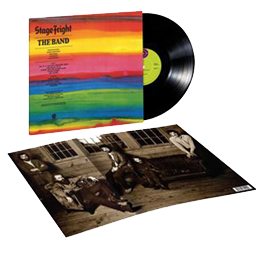 Mix stereo 2020
disponible dans l'édition Super Deluxe et individuellement
1. Tears Of Rage
2. To Kingdom Come
3. In A Station
4. Caledonia Mission
5. The Weight
6. We Can Talk
7. Long Black Veil
8. Chest Fever
9. Lonesome Suzie
10. This Wheel's On Fire
11. I Shall Be Released
Bonus Tracks
12. Yazoo Street Scandal (Outtake)
13. Tears Of Rage (Alternate Take)
14. Long Distance Operator (Outtake)
15. Lonesome Suzie (Alternate Take)
16. Key To The Highway (Outtake)
17. I Shall Be Released (A Cappella)
BLU-RAY
5.1 surround mix + 96kHz/24bit high resolution stereo (uniquement disponible dans le coffret)
Stage Fright (nouveau mix – remasterisé)
The W.S. Walcott Medicine Show
The Shape I'm In
Daniel And The Sacred Harp
Stage Fright
The Rumor
Time To Kill
Just Another Whistle Stop
All La Glory
Strawberry Wine
Sleeping
Strawberry Wine (Alternate Mix) *
Sleeping (Alternate Mix) *
Live At Royal Albert Hall, June 1971
The Shape I'm In
Time To Kill
The Weight
King Harvest (Has Surely Come)
Strawberry Wine
Rockin' Chair
Look Out Cleveland
I Shall Be Released
Stage Fright
Up On Cripple Creek
The W.S. Walcott Medicine Show
We Can Talk
Loving You Is Sweeter Than Ever
The Night They Drove Old Dixie Down
Across the Great Divide
The Unfaithful Servant
Baby Don't You Do It
The Genetic Method
Chest Fever
Rag Mama Rag
45 tours
The Shape I'm In
Stage Fright
Infos via Valérie Lefebvre – Universal Music Catalogue