Le 4ème album d'Elton John sorti en 1971 voit son édition 50ème anniversaire sortir cette année, le 10 juin en version deluxe.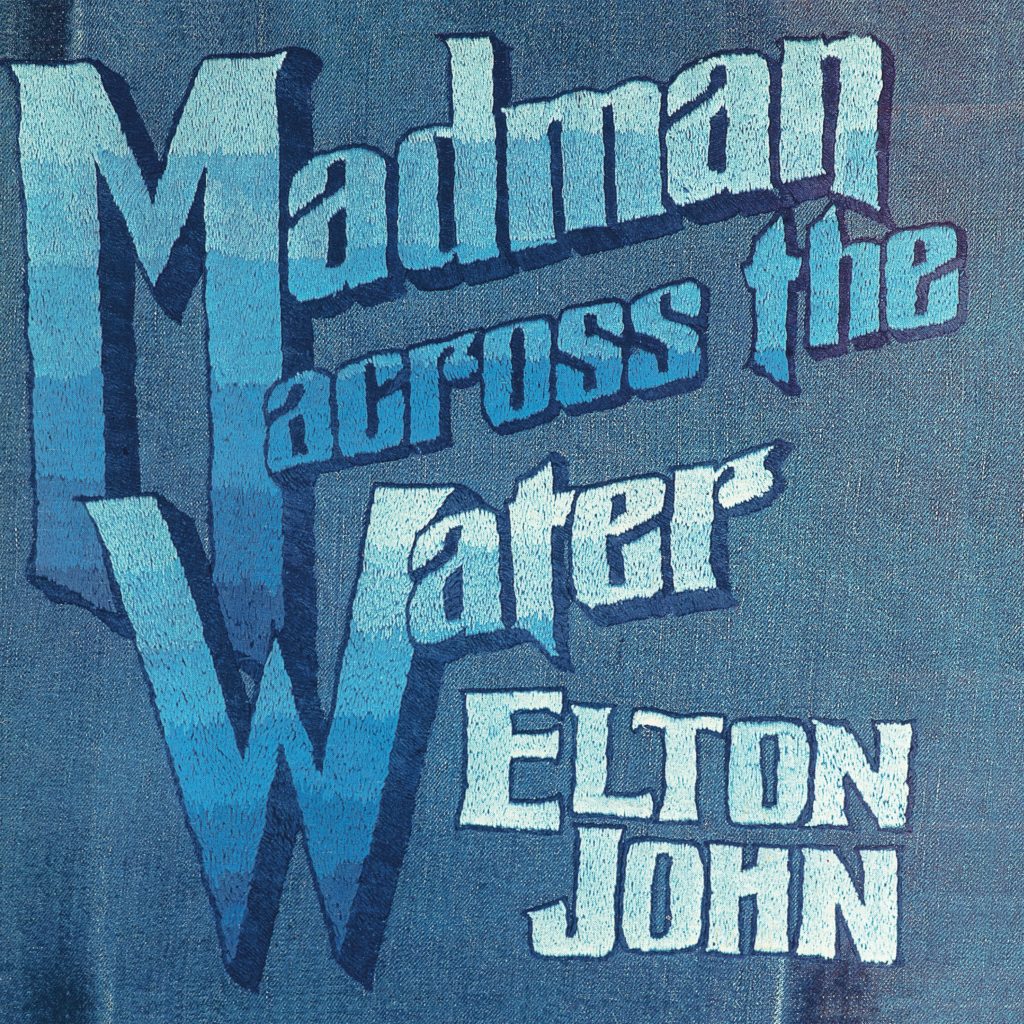 ELTON JOHN : MADMAN ACROSS THE WATER 50TH ANNIVERSARY DELUXE EDITION
SORTIE LE 10 JUIN 2022
Madman Across the Water est le quatrième album d'Elton John. Sorti en 1971, celui-ci connait un succès limité à l'exception des Etats-Unis. En 2000, l'album est redécouvert grâce à la chanson Tiny Dancer qui figure dans le film Almost Famous de Cameron Crowe, et c'est aujourd'hui l'un des titres les plus streamés de l'artiste.
Madman Across the Water fait l'objet d'une réédition deluxe pour célébrer le 50ème anniversaire de sa sortie. La version superdeluxe comprend l'album remasterisé par Bob Ludwig, les versions demo au piano, un concert enregistré à la BBC et un mix 5.1.
CONTENU DES DIFFÉRENTES ÉDITIONS :
2CD
CD1
Tiny Dancer
Levon
Razor Face
Madman Across The Water
Indian Sunset
Holiday Inn
Rotten Peaches
All The Nasties
Goodbye
Indian Sunset (Live Radio Broadcast)
Madman Across The Water (Original Version, featuring Mick Ronson)
Rock Me When He's Gone
Levon (Mono Single Version)
Razor Face (Extended Version)
CD2
Madman Across The Water (1970 Piano Demo)
Tiny Dancer (Piano Demo)
Levon (Piano Demo)
Razor Face (Piano Demo)
Madman Across The Water (1971 Piano Demo)
Indian Sunset (Piano Demo)
Holiday Inn (Piano Demo)
Rotten Peaches (Piano Demo)
All The Nasties (Piano Demo)
Goodbye (Piano Demo)
Rock Me When He's Gone (Piano Demo)
Rock Me When He's Gone (Full Version)
3CD + 1BR
CD1
Tiny Dancer
Levon
Razor Face
Madman Across The Water
Indian Sunset
Holiday Inn
Rotten Peaches
All The Nasties
Goodbye
Indian Sunset (Live Radio Broadcast)
Madman Across The Water (Original Version, featuring Mick Ronson)
Rock Me When He's Gone
Levon (Mono Single Version)
Razor Face (Extended Version)
CD2
Madman Across The Water (1970 Piano Demo)
Tiny Dancer (Piano Demo)
Levon (Piano Demo)
Razor Face (Piano Demo)
Madman Across The Water (1971 Piano Demo)
Indian Sunset (Piano Demo)
Holiday Inn (Piano Demo)
Rotten Peaches (Piano Demo)
All The Nasties (Piano Demo)
Goodbye (Piano Demo)
Rock Me When He's Gone (Piano Demo)
Rock Me When He's Gone (Full Version)
CD3
Tiny Dancer (BBC Sounds For Saturday)
Rotten Peaches (BBC Sounds For Saturday)
Razor Face (BBC Sounds For Saturday)
Holiday Inn (BBC Sounds For Saturday)
Indian Sunset (BBC Sounds For Saturday)
Levon (BBC Sounds For Saturday)
Madman Across The Water (BBC Sounds For Saturday)
Goodbye (BBC Sounds For Saturday)
Blu-Ray
Greg Penny 5.1 mix of Madman Across The Water (Original Version, featuring Mick Ronson)
Greg Penny 5.1 mix of Madman Across The Water
Sounds For Saturday (Taped November 11, 1971 / transmitted April 29, 1972)
Old Grey Whistle Test (Transmitted on December 7, 1971
4LP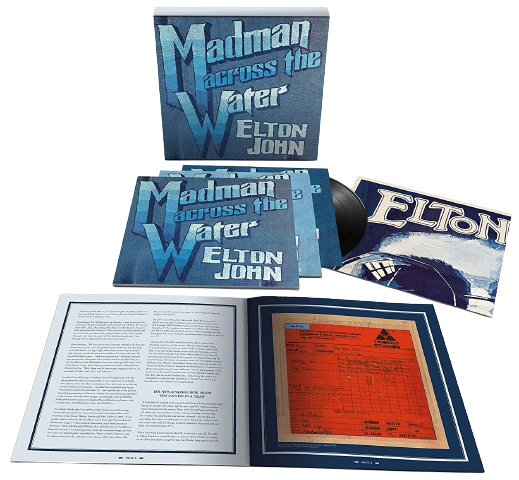 LP1 – Side A
Tiny Dancer
Levon
Razor Face
Madman Across The Water
LP1 – Side B
Indian Sunset
Holiday Inn
Rotten Peaches
All The Nasties
LP2 – Side A
Indian Sunset (Live Radio Broadcast)
Madman Across The Water (Original Version, featuring Mick Ronson)
Rock Me When He's Gone
Levon (Mono Single Version)
Goodbye
LP2 – Side B
Razor Face (Extended Version)
Rock Me When He's Gone (Piano Demo)
Rock Me When He's Gone (Full Version)
LP3 – Side A
Madman Across The Water (1970 Piano Demo)
Tiny Dancer (Piano Demo)
Levon (Piano Demo)
Razor Face (Piano Demo)
Madman Across The Water (1971 Piano Demo)
LP3 – Side B
Indian Sunset (Piano Demo)
Holiday Inn (Piano Demo)
Rotten Peaches (Piano Demo)
All The Nasties (Piano Demo)
Goodbye (Piano Demo)
LP4 – Side A
Tiny Dancer (BBC Sounds For Saturday)
Rotten Peaches (BBC Sounds For Saturday)
Razor Face (BBC Sounds For Saturday)
Holiday Inn (BBC Sounds For Saturday)
LP4 – Side B
Indian Sunset (BBC Sounds For Saturday)
Levon (BBC Sounds For Saturday)
Madman Across The Water (BBC Sounds For Saturday)
Goodbye (BBC Sounds For Saturday)
1LP
Side A
Tiny Dancer
Levon
Razor Face
Madman Across The Water
Side B
Indian Sunset
Holiday Inn
Rotten Peaches
All The Nasties
Infos via Valérie Lefebvre – Universal Music Catalogue