Le documentaire sur David Bowie 'Moonage Daydream' sort le 21 septembre. La Bande Originale contient des versions inédites, des titres live, et des mixes créés exclusivement pour le film.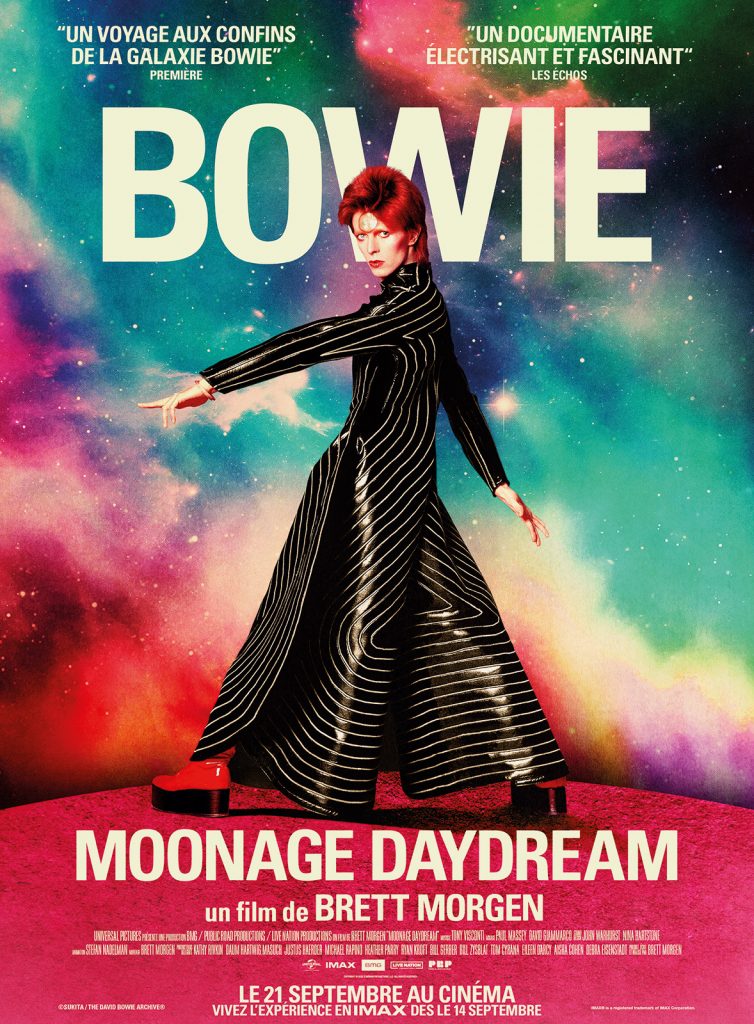 COMMUNIQUÉ
Parlophone Records est fier d'annoncer la sortie de la bande originale du film de Brett Morgen MOONAGE DAYDREAM, prochainement sur les écrans et déjà salué par la critique.
En salles le 21 septembre, MOONAGE DAYDREAM salue la vie et le génie de David Bowie, un des artistes les plus influents et prolifiques de notre époque. Retracé à l'aide d'un sublime montage kaléidoscopique de performances et de musique inédite, l'odyssée visuelle et expérimentale de Brett Morgen (The Kid Stays in the Picture, Kurt Cobain: Montage of Heck, Jane) explore la créativité et le parcours spirituel et musical de David Bowie. Le film est guidé par la narration de David Bowie et constitue le premier long-métrage officiel consacré à l'artiste.
La bande originale de MOONAGE DAYDREAM contient des titres issus de la discographie de David Bowie, du matériel inédit, des mixes exclusifs créés pour le film et des extraits de la narration de David Bowie. Le medley live inédit The Jean Genie / Love Me Do / The Jean Genie enregistré à l'Hammersmith Odeon en 1973 lors du concert d'adieu de Ziggy Stardust avec Jeff Beck à la guitare fait partie des temps forts de cette bande originale. Une version de travail de Quicksand, extrait d'Hunky Dory, et une version live inédite de Rock 'n' Roll With Me tirée du légendaire Soul Tour de 1974 font également partie des raretés.
VERSION DIGITALE – SORTIE LE 16 SEPTEMBRE :
"Time… one of the most complex expressions…"
Ian Fish U.K. Heir (Moonage Daydream Mix 1)
Hallo Spaceboy (Remix Moonage Daydream Edit)
Medley: Wild Eyed Boy From Freecloud / All The Young Dudes / Oh! You Pretty Things (Live)
Life On Mars? (2016 Mix Moonage Daydream Edit)
Moonage Daydream (Live)
The Jean Genie / Love Me Do / The Jean Genie (Live) (featuring Jeff Beck)
The Light (Excerpt)*
Warszawa (Live Moonage Daydream Edit)
Quicksand (Early Version 2021 Mix)
Medley: Future Legend / Diamonds Dogs intro / Cracked Actor
Rock 'n' Roll With Me (Live in Buffalo 8th November, 1974)
Aladdin Sane (Moonage Daydream Edit)
Subterraneans
Space Oddity (Moonage Daydream Mix)
V-2 Schneider
Sound And Vision (Moonage Daydream Mix)
A New Career In A New Town (Moonage Daydream Mix)
Word On A Wing (Moonage Daydream Excerpt)
"Heroes" (Live Moonage Daydream Edit)
D.J. (Moonage Daydream Mix)
Ashes To Ashes (Moonage Daydream Mix)
Move On (Moonage Daydream acappella Mix Edit)
Moss Garden (Moonage Daydream Edit)
Cygnet Committee/Lazarus (Moonage Daydream Mix)
Memory Of A Free Festival (Harmonium Edit)
Modern Love (Moonage Daydream Mix)
Let's Dance (Live Moonage Daydream Edit)
The Mysteries (Moonage Daydream Mix)
Rock 'n' Roll Suicide (Live Moonage Daydream Edit)
Ian Fish U.K. Heir (Moonage Daydream Mix 2)
Word On A Wing (Moonage Daydream Mix)
Hallo Spaceboy (live Moonage Daydream Mix)
I Have Not Been To Oxford Town (Moonage Daydream acappella Mix Edit)
"Heroes »: IV. Sons Of The Silent Age (Excerpt) *
★ (Moonage Daydream Mix Edit)
Ian Fish U.K. Heir (Moonage Daydream Mix Excerpt)
Memory Of A Free Festival (Moonage Daydream Mix Edit)
Starman
"You're aware of a deeper existence…"
Changes
"Let me tell you one thing…"
"Well, you know what this has been an incredible pleasure…"
*Interprété par Bournemouth Symphony Orchestra sous la direction de Marin Alsop
VERSION 2CD – SORTIE LE 18 NOVEMBRE :
CD1
"Time… one of the most complex expressions…"
Ian Fish U.K. Heir (Moonage Daydream Mix 1)
Hallo Spaceboy (Moonage Daydream Remix Edit)
Medley: Wild Eyed Boy From Freecloud / All The Young Dudes / Oh! You Pretty Things (Live)
Life On Mars? (2016 Mix Moonage Daydream Edit)
Moonage Daydream (Live)
The Jean Genie / Love Me Do / The Jean Genie (Live) (featuring Jeff Beck)
The Light (Excerpt)*
Warszawa (Live Moonage Daydream Edit)
Quicksand (Early Version 2021 Mix)
Medley: Future Legend / Diamonds Dogs intro / Cracked Actor
Rock 'n' Roll With Me (Live in Buffalo 8th November 1974)
Aladdin Sane (Moonage Daydream Edit)
Subterraneans
Space Oddity (Moonage Daydream Mix)
V-2 Schneider
CD2
Sound And Vision (Moonage Daydream Mix)
A New Career In A New Town (Moonage Daydream Mix)
Word On A Wing (Moonage Daydream Excerpt)
"Heroes" (Live Moonage Daydream Edit)
D.J. (Moonage Daydream Mix)
Ashes To Ashes (Moonage Daydream Mix)
Move On (Moonage Daydream acappella Mix Edit)
Moss Garden (Moonage Daydream Edit)
Cygnet Committee/Lazarus (Moonage Daydream Mix)
Memory Of A Free Festival (Harmonium Edit)
Modern Love (Moonage Daydream Mix)
Let's Dance (Live Moonage Daydream Edit)
The Mysteries (Moonage Daydream Mix)
Rock 'n' Roll Suicide (Live Moonage Daydream Edit)
Ian Fish U.K. Heir (Moonage Daydream Mix 2)
Word On A Wing (Moonage Daydream Mix)
Hallo Spaceboy (live Moonage Daydream Mix)
I Have Not Been To Oxford Town (Moonage Daydream acappella Mix Edit)
"Heroes »: IV. Sons Of The Silent Age (Excerpt) *
★ (Moonage Daydream Mix Edit)
Ian Fish U.K. Heir (Moonage Daydream Mix Excerpt)
Memory Of A Free Festival (Moonage Daydream Mix Edit)
Starman
"You're aware of a deeper existence…"
Changes
"Let me tell you one thing…"
"Well, you know what this has been an incredible pleasure…"
*Interprété par Bournemouth Symphony Orchestra sous la direction de Marin Alsop
VERSION 3LP EN 2023
ISO RECORDS/PARLOPHONE 
infos via Sophie Louvet